We are closed for summer holidays from week 28 until the end of week 31.
For urgent matters you can reach us at
info@lts.eu
.
We wish you nice holidays and welcome back 7th of August.
About LTS
The company was founded in 1968 in Söderköping. Over the past 50 years, the business has mainly focused on developing, manufacturing and marketing products in the field of commercial ventilation, but also air handling through OEM and ODM sales.
Through the cooperation with the Finnish ventilation company Vallox Oy, we are also equipped for deliveries to the housing market.
Requirements for energy efficiency and the environment have constantly increased, which we have taken on as a challenge in our product development.
Production takes place in our own premises, which after several extensions comprise an area of ​​4,500 sqm.
Business Concept
LTS's business concept is to adapt our standard products to customers' established specifications for mechanical and control engineering, without sacrificing environmental requirements, energy life cycle economics or prices.
Our Vision
LTS's vision is to continue to utilize the smaller company's flexibility to listen and respond to customers' specific wishes.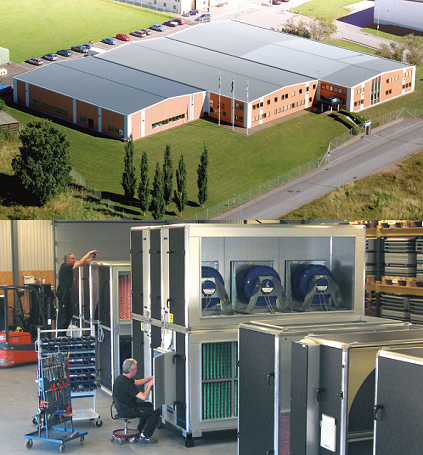 Functional Quality
A key word for LTS Products AB, for controlling the entire business from design through capacity testing, manufacturing and control before delivery and support.
We do not inherit the land from our parents, we borrow it from our children
Sweden has agreed to a number of international agreements for the protection of the environment and the management of natural resources. Some agreements focus on climate and air care. LTS Products AB is a ventilation company with the internal environment as a working area. With modern air treatment technology, it is now possible to create, an indoor climate for man.
Our quality and environmental policy
LTS Products AB develops, manufactures and sells ventilation products to give the user the best indoor climate.
Low energy consumption, high quality of air purification and low noise levels are some given requirements for designing new and revising existing products. The environmental work within the company should be intensified and constantly developed with regard to:
that material and component choices are made during the design work, and that the procurement is monitored through stricter purchasing routines, to the alternative, which is currently the most environmentally friendly at a reasonable cost.
that waste quantities, energy consumption, emissions to air, water and soil are continuously monitored in order to limit harmful environmental impact.
to inspire staff within the company to understand and thereby commit to environmental awareness in every task.
It is the responsibility of the management to create the right conditions for achieving this environmental policy.


With funding from Tillväxtverket and the European Regional Development Fund has LTS developed a new program for productselection.