We are closed for summer holidays from week 28 until the end of week 31.
For urgent matters you can reach us at
info@lts.eu
.
We wish you nice holidays and welcome back 7th of August.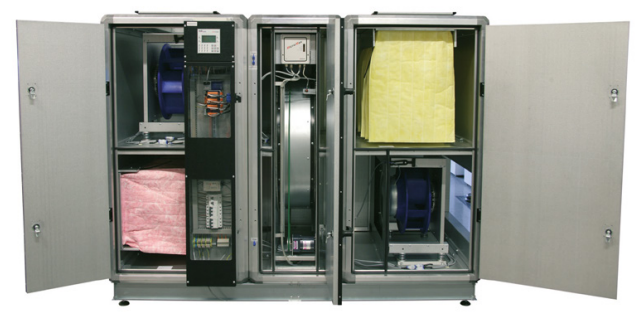 LTS Excellent with RVVX
Heat recovery unit with rotary heat exchanger
Air flow range 0.2-10.0 mᶾ/s, divided into eight sizes. Placement in fan room or outdoors.
Casing made in steel plate with corrosivity class C5. Inspection hatches made in black plastic-coated sheet metal equipped with lockable knobs. Insulation 40mm fire-hardy mineral wool. Housing density class L2.
Chamber fans with EC motors, protective form IP54.
Heat recovery with rotary heat exchanger.
Bypass damper for heat exchanger
Filters with rich filter surfaces, class M5 or F7.
For sizes 04-08 built-in electricity central with digital control equipment, which means a large selection of control functions. The control equipment allows connection to computer system through several diffe rent data languages. For sizes 09-11, the electricity central is be packed.
Hand terminal and webserver is standard.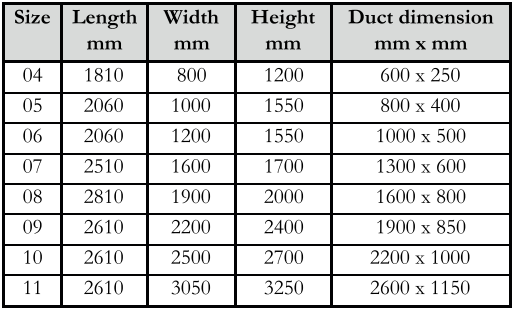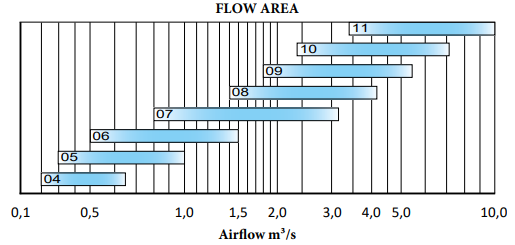 Accessories
Heating battery for electricity or warmwater.
Cooling battery for cold water or direct expansion.
Damper sealing class 3 with built-in actuator.
LTS Excellent with RVVX size 04
Dimensions
Length: 1810 mm
Width: 800 mm
Height: 1200 mm
Duct dimension: 600 mm x 250 mm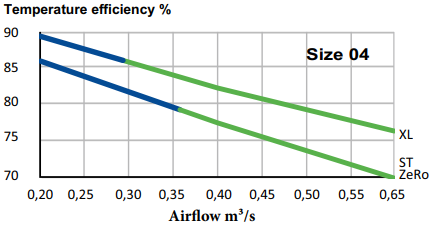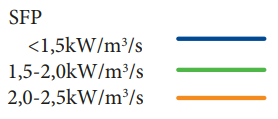 ST = standard rotor
XL = tightly wound rotor
The graphs are valid under the following conditions:
Filter class F7, Supply
Filter class M5, Exhaust
Rotary heat exchanger
Heating water battery
Static pressure for channel 250Pa
Setup alternatives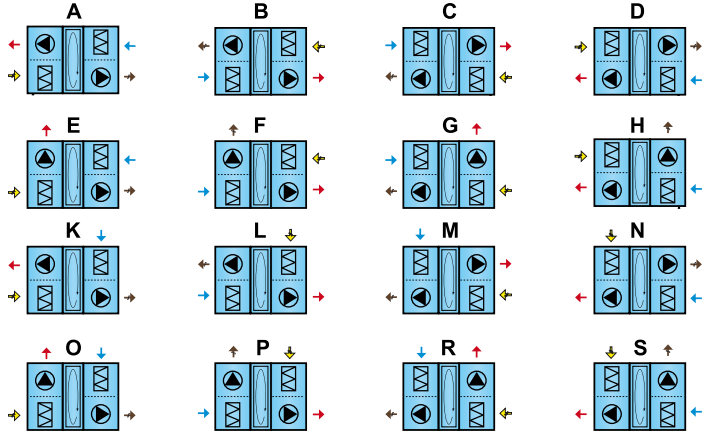 LTS Excellent with RVVX size 05
Dimensions
Length: 2060 mm
Width: 1000 mm
Height: 1550 mm
Duct dimension: 800 mm x 400 mm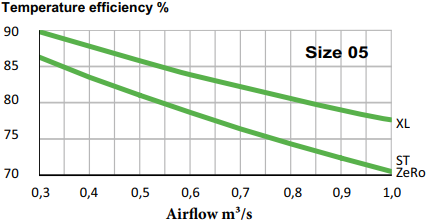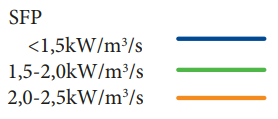 ST = standard rotor
XL = tightly wound rotor
The graphs are valid under the following conditions:
Filter class F7, Supply
Filter class M5, Exhaust
Rotary heat exchanger
Heating water battery
Static pressure for channel 250Pa
Setup alternatives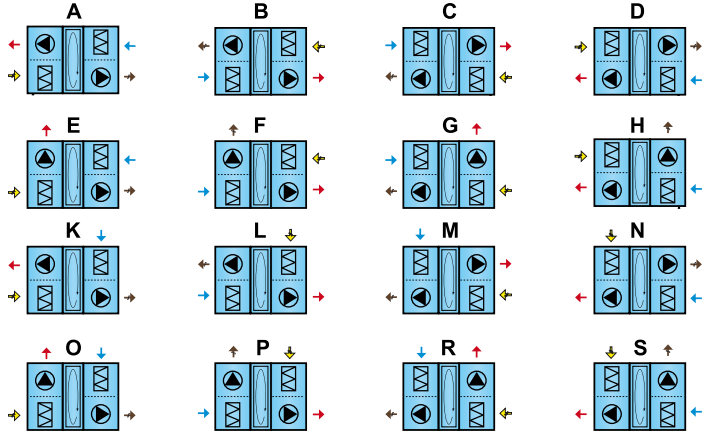 LTS Excellent with RVVX size 06
Dimensions
Length: 2060 mm
Width: 1200 mm
Height: 1550 mm
Duct dimension: 1000 mm x 500 mm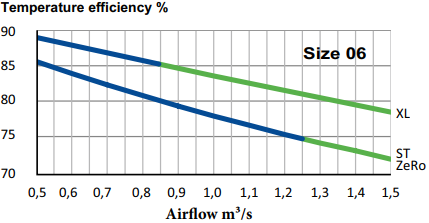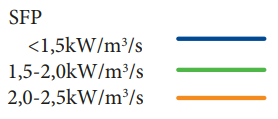 ST = standard rotor
XL = tightly wound rotor
The graphs are valid under the following conditions:
Filter class F7, Supply
Filter class M5, Exhaust
Rotary heat exchanger
Heating water battery
Static pressure for channel 250Pa
Setup alternatives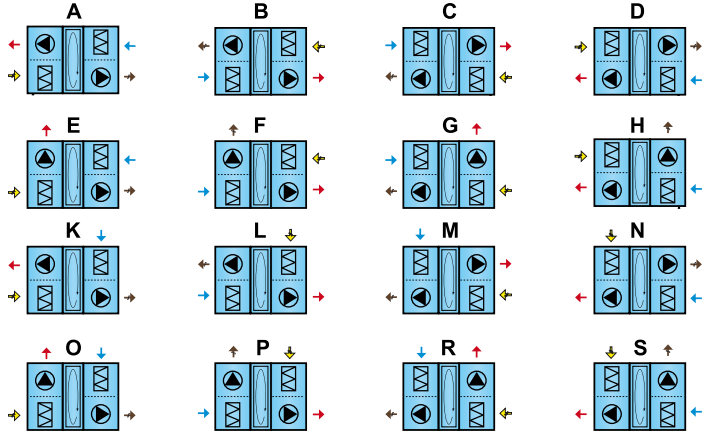 LTS Excellent with RVVX size 07
Dimensions
Length: 2510 mm
Width: 1600 mm
Height: 1700 mm
Duct dimension: 1300 mm x 600 mm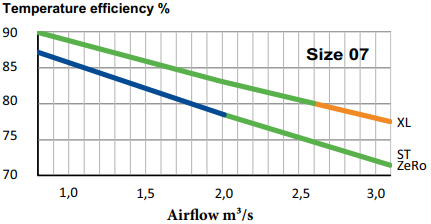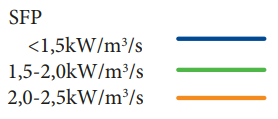 ST = standard rotor
XL = tightly wound rotor
The graphs are valid under the following conditions:
Filter class F7, Supply
Filter class M5, Exhaust
Rotary heat exchanger
Heating water battery
Static pressure for channel 250Pa
Setup alternatives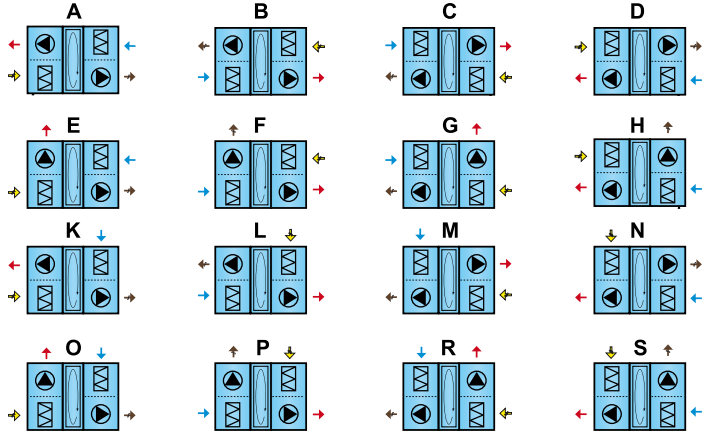 LTS Excellent with RVVX size 08
Dimensions
Length: 2810 mm
Width: 1900 mm
Height: 2000 mm
Duct dimension: 1600 mm x 800 mm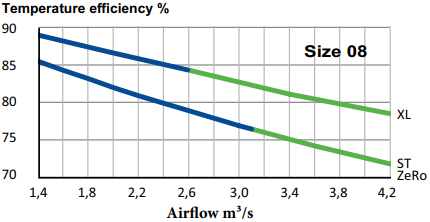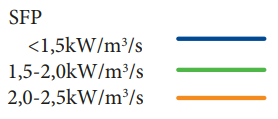 ST = standard rotor
XL = tightly wound rotor
The graphs are valid under the following conditions:
Filter class F7, Supply
Filter class M5, Exhaust
Rotary heat exchanger
Heating water battery
Static pressure for channel 250Pa
Setup alternatives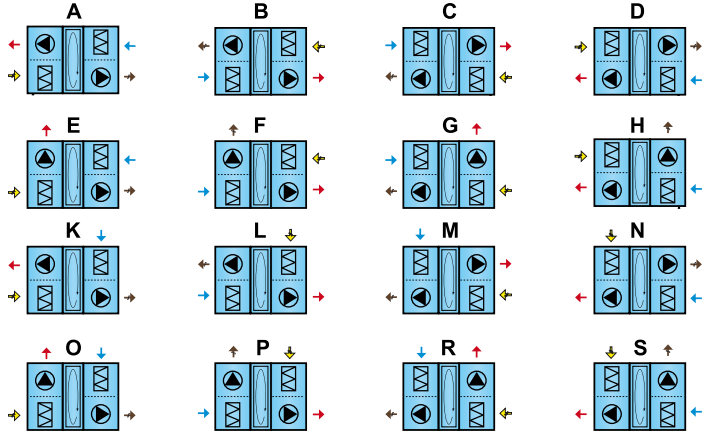 LTS Excellent with RVVX size 09
Dimensions
Length: 2610 mm
Width: 2200 mm
Height: 2400 mm
Duct dimension: 1900 mm x 850 mm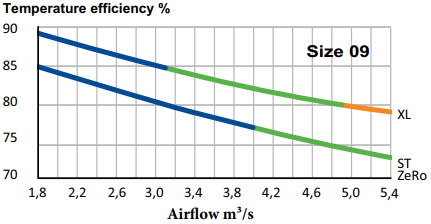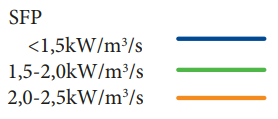 ST = standard rotor
XL = tightly wound rotor
The graphs are valid under the following conditions:
Filter class F7, Supply
Filter class M5, Exhaust
Rotary heat exchanger
Heating water battery
Static pressure for channel 250Pa
Setup alternatives


LTS Excellent with RVVX size 10
Dimensions
Length: 2610 mm
Width: 2500 mm
Height: 2700 mm
Duct dimension: 2200 mm x 1000 mm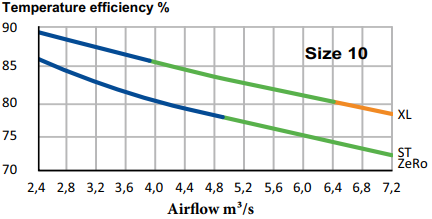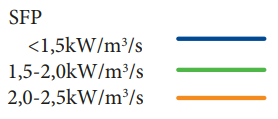 ST = standard rotor
XL = tightly wound rotor
The graphs are valid under the following conditions:
Filter class F7, Supply
Filter class M5, Exhaust
Rotary heat exchanger
Heating water battery
Static pressure for channel 250Pa
Setup alternatives


LTS Excellent with RVVX size 11
Dimensions
Length: 2610 mm
Width: 3050 mm
Height: 3250 mm
Duct dimension: 2600 mm x 1150 mm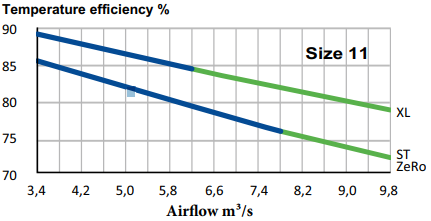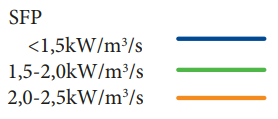 ST = standard rotor
XL = tightly wound rotor
The graphs are valid under the following conditions:
Filter class F7, Supply
Filter class M5, Exhaust
Rotary heat exchanger
Heating water battery
Static pressure for channel 250Pa
Setup alternatives